Obama gave Israel green light on ground offensive in Gaza
Jul 9 2014 / 12:00 am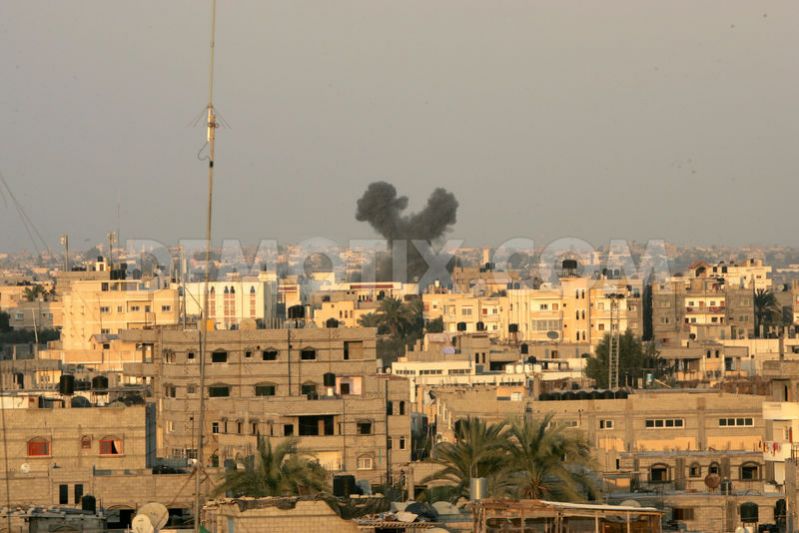 By Ali Younes.
The Arab Daily News – The Arab Daily News has learned that president Barack Obama is now supporting the Israeli offensive against Hamas in Gaza and possibly escalating the war into a ground offensive operation.
Israeli ambassador to the US Ron Dermer met with president Obama yesterday and it was reported that the president has agreed with the Israeli argument for escalating its air, land and sea offensive against Gaza strip where Hamas is in charge of its government.
Obama's position would be a contradiction to his public stance on the crises in which he in the past few days has called for calm and restraint on both sides. It would be US policy shift by actually supporting Israeli ground offensive e against a largely defenseless strip.
Israel launched massive air strikes on targets in Gaza many of which struck residential homes of Palestinian civilians destroying their homes. Press reports put the number of Palestinian killed as a result of these air strikes at 40 at the time of writing of this report. 11 of those killed were children. Hamas in turn launched a barrage of missiles against Israeli targets as far north as Hadera which lies between Haifa and Tel Aviv. This is the first time Hamas rockets have reached this far north. Hamas also fired its missiles against Tel Aviv and Jerusalem.
Hamas makes its own crude missiles that are inaccurate .
Israeli military spokesman said that many of those missiles were actually shot down by Israeli anti-Misssile system Iron Dome. Israeli residents of coastal towns closer to Gaza took shelter and stayed inside during Hamas missiles firing. No reports of Israeli being killed.
Palestinians in Gaza have no shelters to seek protection inside and are left to stay inside their homes under the mercy of Israeli airstrikes and shelling from Israeli warships anchored off Gaza shoes.
Jordan has denounced the " Israeli aggression against Gaza" and called for its " immediate halt" Jordanian government spokesman Mohamad Al Momani called the Israeli attacks " barbaric" and " violations of human and international laws."
Meanwhile Egyptian intelligence chief, Gen. Mohahamd Al Tuhami secretly visited Israeli last week and met with Israeli leaders to single the Egyptian agreement to Israeli operation against Hamas in Gaza. The new regime in Egypt under the president Abdel Fatah El Sisi view Hamas as its enemy.
Sources in Washington told the Arab Daily News that Israeli leaders have got the blessings of the United States and Egypt to weaken Hamas and destroy its weapons arsenal . The strategy here is to weaken Hamas bad enough in order to bring it to the negotiation table along with the Palestinian authority without much of any barraging power.
For Israel, a weakened Hamas regime in Gaza will give the Israelis a breathing room for many years in which they can still dictate the conditions in the feeble Peace Process if it ever come to a final status negotiations without Hamas trying to spoil it. The United States strategy, is actually no strategy. The US under Obama would simply have to stand behind any Israeli decision whether it is war or peace as this case shows.
Egypt is in particular is angling to keep Hamas defeated and destroyed inside Gaza after general Abdel Fatah El Sisi toppled the democratically elected government of the Muslim Brotherhood of president Mohamad Morsi, and Hamas ally and put him in jail under false charges.
Ali Younes is the Editor of The Arab Daily News online newspaper. He is a veteran news-editor, Journalist, and a Middle East analyst based in Washington, D.C. He is a member of Washington Association of Arab Journalists and the National Arab American Journalists Association and listed as one of the US State Department's Middle East analysts and experts. He is also a contributing analyst for several Arabic, American and International news channels such as Al Jazeera, Al Arabiya, Dubai TV, Fox News, NBC, ABC, CBS, BBC and Russia Today.
His columns appeared in major US publications such as the Chicago Sun Times, Chicago Tribune, and the USA today among others.
Reach Ali at aliyounes@TheArabDailyNews.com
Posted by
Philip Giraldi
on Jul 9 2014 . Filed under
Commentary & Analysis
. You can follow any responses to this entry through the
RSS 2.0
. Both comments and pings are currently closed.