Billionaire Saban Advises Clinton to Differentiate Herself From Obama on Israel
Oct 13 2016 / 1:37 pm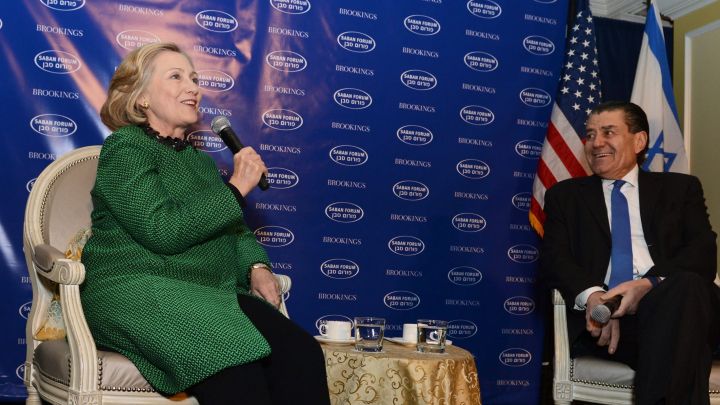 Emails from Israeli billionaire Haim Saban to Clinton's inner circle, mainly relating to Israel
Ha'aretz – Israeli-American tycoon and major Hillary Clinton donor Haim Saban had advised the Democratic nominee for U.S. president as early as June 2015 to distance herself from President Barack Obama's policies on Israel, according to emails made public by WikiLeaks on Tuesday.
Saban sent the message to Clinton's most senior adviser, Huma Abedin, campaign chairman John Podesta and campaign manager Robby Mook.
"She needs to differentiate herself from Obama on Israel," Saban says in the message.
"It can easily be done [without] criticizing the President, and this so that she can recapture the 11% lost between 2012 and 1992," he continues, making a reference to the fact that Bill Clinton won 80 percent of the Jewish vote in 1992, while Obama won 69 percent a decade later.
Saban recommended that Clinton (sic throughout) "speak strongly against anti-Semitism, and boycott" and "reaffirm the US commitment to Israel's security & anything else your research tells you the Jewish community is sensitive to."
"This is NOT a NY or California issue, it is a Florida one. Pls LMK how I can help here," the message reads.
In a separate message Saban sent to Podesta and Mook a few hours later, he adds: "Let's not allow them to steel the Jewish vote from us."
The email correspondence between Clinton's advisers that WikiLeaks has published over the past few days contains more than a few emails from Saban to Clinton's inner circle, mainly relating to Israel.
For instance, in late March 2015, about two weeks after Benjamin Netanyahu won the Israeli election, a telephone call was arranged between Clinton and Malcolm Hoenlein, the executive vice chairman of the Conference of Presidents of Major Jewish Organizations. Hoenlein is considered close to Netanyahu and the Israeli right, and the purpose of the call was to send a message through him to the Israeli and American public regarding Clinton's views on relations with Israel.
The emails show Clinton's staff arranged with Hoenlein that he would issue a statement after the phone call detailing what Clinton had said. Hoenlein indeed issued the statement, and articles subsequently published in Jewish media outlets in the United States reported that Clinton had stressed her desire to work to repair American-Israeli relations, which were in a deep crisis at the time due to Netanyahu's speech to Congress against the nuclear deal with Iran.
After these articles appeared, Saban sent several emails to Clinton's advisers praising them for this move.
"A very good statement … w/o saying anything that would show even a sign of criticism of the administration. Very smart and politically correct. Pls say thanks to the lady," Saban wrote to Huma Abedin on March 30, 2015, referring to Clinton.
A few hours later, Saban sent another email to Abedin, this time with a copy to John Podesta.  "Also pls be aware that these articles will be mailed to thousands of people who are interested in the subject matter and who have been asking themselves … and me, many times 'Where is Hillary on this' Well … now they will know," he wrote.
Saban, a billionaire with business interests in both America and Israel, has been known for his close ties with the Clintons for more than 20 years. Saban is also known as one of the biggest and most reliable donors to both Hillary Clinton's political campaigns and the Clintons' philanthropic organization, the Clinton Foundation. According to American media reports, Saban gave about $5 million to Priorities USA, a political action committee that is supporting Hillary Clinton's presidential bid.
Posted by
Alison Weir
on Oct 13 2016 . Filed under
Candidates
,
Commentary & Analysis
,
Featured articles
,
Israel Lobby
,
Israeli/Jewish Press
,
Politicians
. You can follow any responses to this entry through the
RSS 2.0
. Both comments and pings are currently closed.